Hair News & Maintenance Tips
Hair Styling Tips, Hair Maintenance Advice & Hair Salon News
Our Blog
New products of the month
27.05.2014
TIGI Bed Head - Dumb Blonde Toning Protection Spray
This spray is brand new on the market, there's nothing else like this out there for brightening up bleach blonde addicts! The cool conditioning spray protects against heat and fights away brassy unwanted tones found in blondes, achieving beautiful icy violet tones. Use on damp hair before blow drying to dazzle and shine.
TIGI Bed Head - Colour Goddess Miracle Treatment
A new product with in the Colour Goddess range, proven to be a popular hit with our colour clientele. This mask combines Keratin, Provitamin B5 and essential oils to help smooth the cuticle and keep colour electrifying! Use this mask weekly to intensify and strengthen hair!
TIGI Catwalk - Haute Iron Spray
The re-vamped Catwalk range brings you this seriously shiny heat spray, maintaining healthy gorgeous hair. Perfect for using on damp before blow drying, as well as dry hair before flat irons. Heat protection is vitally essential for achieving that smooth, healthy salon worthy style we all wish to achieve in the comfort of our own home.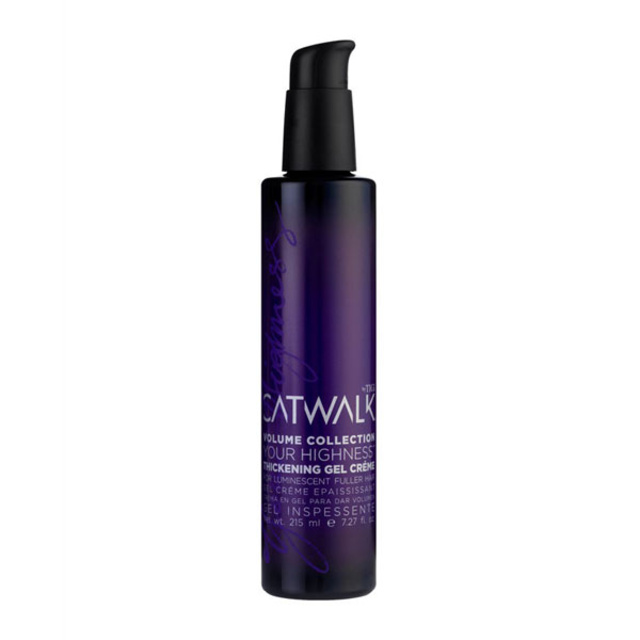 TIGI Catwalk - Your Highness Thickening Gel Crème
If you're craving luminescent hair with added volume then look no further, we have the product for you! A blend of Jasmin and Violet along with UV protectors add shine and endless manageable volume. Use on freshly washed damp hair and notice the difference for yourself, but there's a warning, you will fall in love with this product!
<< Back to blog page